LH: Danny, thanks for sitting down with us today. You have been at AFC Sudbury for five years now, can you explain how your arrival came about?
DL: It was the end of the 2013/2014 season & I had been out of management & coaching since earlier that season when I resigned from the first team managers job at Leiston FC. I was doing some coach mentoring for the FA which was enjoyable and none of the offers really appealed until David Batch called me and explained what the plans were for youth development at AFC Sudbury. I agreed to take over the reserve team manager role for the following season with David Cannon.
LH: How did that first season go?
DL: It went really well for me it was great to work with young players again after 8 Seasons as a first team manager. Dave & I worked closely with Craig Power who was running the U18s and we ended up winning the Thurlow Nunn First Division KO Cup with the last game of the season.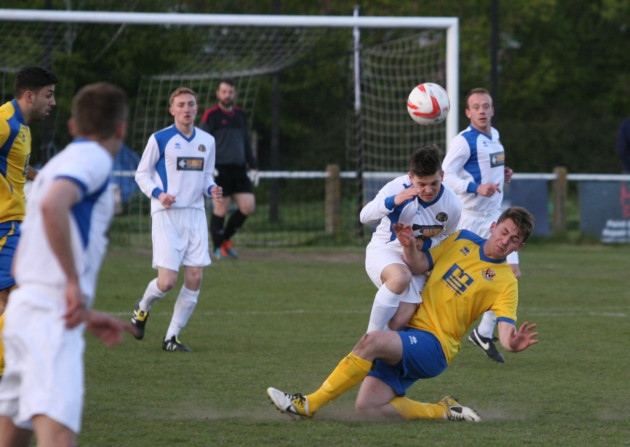 LH: It was all change the next season though when you formed the academy?
DL: Yes big changes as this was also the first season with the 3G pitch. I was always sold on AFC Sudbury since the first call from David Batch, the ambition to be at the forefront of change is a good fit for me because that's what I'm like.
LH: Your first cohort of players were the trailblazers for what has been achieved since, what was the academy like that first year?
DL: Recruitment was good, I had the experience of setting up the academy at West Suffolk College & also the Needham Market FC so I knew what type of player would fit our needs. Boys like Oliver Peters, Joe Wright, Ollie Dunlop & Tyler French joined straight from school & we had older boys like Alfie Carroll leave sixth form to come and join. It was a great mix as we also had 18 Year olds Kyran Clements, Jordi Blackwell, Dan Joyce & Charlie Gilbert. These were really fun times as it was all brand new, every game felt like something special. These boys had real pride in being then first group through, a kind of responsibility.
LH: This was also the first year of the USA Tours? Tell us a bit more about these?
DL: The USA Tour is now an essential part of the AFC Sudbury Academy Experience, it has directly resulted in to date 7 of our Academy alumni now playing college soccer in the USA. We have evolved the tour over the years and now find the Weekend of Memorial Day in the USA works best for us. We have stayed in a hotel, university accommodation and the last two years a large house. We try to go to a different state each year to broaden our contacts and as well as playing in a tournament we have a university visit and lots of cultural experiences. In the four years we have been going we have taken over 100 different players & staff associated with our club. Whenever I bump into the likes of former players or David Webb (who attended the first tour to Philadelphia) they always have a story about the Academy USA Tour and it's great to see all the memories flash up on social media.
LH: What are the plans for state number five in 2020?
DL: Research has begun already and it's looking like Florida! Early stages of planning just now but myself DC, CP & GP are already calling it #florida50 - we think we will have a tour party of 50 players and staff! This is due to us taking our new Girls Academy Team. We had 35 in the tour party to Las Vegas this year that included Amy, Eloise, Boni & Ellie who guested for the host club team Albion SC. It is the plan to enter our own AFC Sudbury Academy Girls Team into next year's tournament hence the tour party of 50!
LH: Getting back to domestic football, what are the plans for next season? How do you try to beat last seasons success?
DL: Last Season was amazing, Mark Morsley again showing unbelievable courage & we again had many players from the academy make their debuts for the first team including on occasions a whole U18 back four playing Step 4 first team football (two of them being U17 in Ross Crane & Liam Bennett) It was also great to see alumni such as Tom Dettmar (1st Team Player of the Year) & Ben Hunter establish themselves up there both still just 19 years old. The team successes were part of our pre-season targets, we came up short on the National Cup defeat to BorehamWood FC and also points in the TND1 we wanted to get 40 but only managed 39. Next Season we will set different targets which is important for the players both individually & collectively these stay private within the group but have no fear we will be going all out to retain trophies. It is well documented that we believe in the legacy left by former AFC Sudbury Academy players and the responsibility of our players to thrive on success.
LH: That brings me on nicely to THAT speech! Tell us some more about that?
DL: It was Jamie Souza (newly appointed Head of Girls Academy) who filmed it, he has been in the dressing room with the boys a lot this season and was in there at Walsall the week before when the mood was low & he decided to get some footage of a more upbeat mood! I know it got a few views and comments on YouTube etc and Dave Cannon saidat the annual awards day recently in his speech that the video summed up what the AFC Sudbury Academy is all about, so it's a good thing! I just wanted to tell the players how well they had done to be up there to be shot down but still came through as favourites. They also did it again the following week which is great for the #classof2019.
(Click here to view Danny's post-game speech)
LH: So what is the secret ingredient to all the AFC Sudbury Academy success?
DL: I was asked this by Russell Claydon at the end of the season and didn't really have time to think, I think it's a mixture of things. First of all, be true to your product, everyday I say to the full time staff 'Coach the kids' 'make them better' 'don't short change them', that's what our product is.. We don't ever try to be something we are not, we are a full-time football academy that recruits properly and coaches players full time and then coaches them in competitive matches. It's pretty simple really. If a player doesn't want those things then they shouldn't join us, if they want a quick fix then go somewhere else. On the subject of staff we have what I call some real people involved. Everyone from top to bottom is in it for the right reasons and very protective and proud of what we do.
LH: Last question - Tyler French? How far can he go in the professional game?
DL: I spoke with Tyler last week and just told him how proud everyone at the academy was of him & his move to Bradford City FC. His situation is not a schoolboy registration or a Youth Development contract it is the real deal a two year professional contract. More credit here to Mark Morsley for overseeing this whole transfer. It is interesting on two fronts, firstly it must be recognised that Tyler spent no time in his schoolboy career at a professional academy, he played local youth football until he was 16 when he joined our full time Academy. Secondly Tyler has played over 200 adult games in the four seasons he has been at AFC Sudbury. So the question of how far he can go is difficult to answer because he has not had the conventional upbringing into a professional clubs first team. Personally I think he has key attributes to be a big success at Bradford City and know he can't wait to get started. He won't be fazed and will have to grow up fast both on and off the field but with a bit of luck (and he hasn't had much to date!) it should be plain sailing for Tyler. And don't be surprised if he is followed shortly by other Academy graduates into the professional ranks both this side and stateside of the pond! We still have some fantastic talent at this club and some names are no secret but there are one or two others who you may not have heard of yet who have big futures.
And that's it for our first installment of AFC Ten Questions - stay tuned for more interviews with key figures at AFC Sudbury coming soon!